6 brochures every plumbing company needs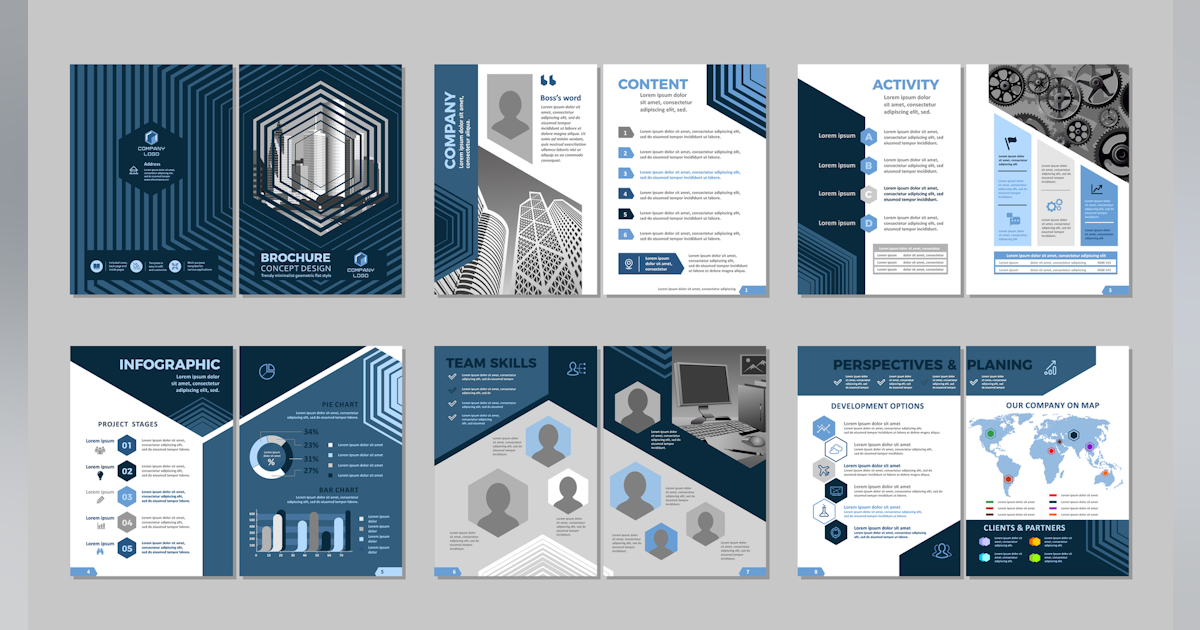 Plumbers leave money on the table with almost every service call. This is because field plumbers don't know how to talk to consumers about the wide range of options they can offer. Since they're not inclined to talk about options and aren't very good at it, don't expect it. Instead, provide them with printed materials. Here are six brochures that every plumbing company needs.
1. Company brochure
Start with a business brochure. It's pretty basic, but most plumbing companies don't. In many ways, your business brochure should mirror your website (or vice versa). Obviously, it should feature your logo, phone number, website, and general email address. It must also indicate your opening hours.
The brochure should describe what you are doing. What services do you offer? What products are you selling? Don't assume people know, for example, that you could install gas piping for an outdoor grill. Tell them. It might even stimulate ideas.
The imagery should be that of happy humans. Smiling plumbers in the field. Happy dispatchers. Happy owners. Remember, people care more about people than trucks and tools.
Be sure to include a Unique Selling Proposition (USP) and the reasons for using your business. The USP indicates how you are different from all other plumbers. What makes you unique? How are you an expert? If the USP doesn't explicitly tell people why they should be using your business, indicate why. Include a bold headline proclaiming "Why You Should Use Us".
Finally, include a call to action. You can use this documentation in various contexts. In addition to giving it to people on service calls, you can distribute it at a conference at a community service club or distribute it at a home and garden exhibit. Include a dollar discount coupon. This makes the brochure more valuable to homeowners and makes them more likely to keep it for the next time a plumber is needed.
2. Recruitment brochure
A business brochure informs potential customers about your business. A recruitment brochure informs future employees about your company. What are the advantages you offer? What do you offer in terms of paid leave and vacation? What training do you offer? Can people grow in your business?
Visuals are important in a recruiting brochure. Show your business. Show your people and include quotes on what it's like to work in the company. Also show your customers testimonials about their satisfaction with your business and the work you do.
A recruiting brochure is not just literature to attract plumbers and office workers. It is designed to seduce their spouses. It should be something the candidate for the job can show their spouse that persuades the spouse that the business would be better for the candidate than other employment options.
At Service Nation, we call our recruitment brochure our "Culture Book". We prepare them for Service Nation Alliance members on request. If you would like a copy of our company's culture book as an example, call 877 / 262-3341 and request one.
3. Upgrade the book
Each house is full of upgrade options. Most people don't think about them. Some may browse ideas on Pinterest or Houzz. Or, they could visit a big box. As an installer, you should provide your customers with an upgrade options book.
An upgrade book should include different types of kitchen and bathroom faucets and finishes. It should include options for sinks, tubs, and showers. Plumbing is a backdrop. Show an installation, then option images.
A page could be dedicated to upgrade options with feed grinders. Another could focus on water heaters, including tankless ones. One page could focus on water purification.
The upgrade book should be designed so that each page can be printed as a stand-alone flyer if needed. This gives you maximum flexibility.
4. Residence for the elderly
There are 77 million baby boomers born between 1946 and 1964. They control 70% of all disposable income in the United States, but are only targeted by 5-10% of all marketing efforts. Ten thousand turn 65 every day and almost all of them want to stay in their homes as long as possible. This means that preparing homes for aging in place is a huge opportunity that is largely missed by traders and certainly missed by most plumbing contractors.
Create a retirement home brochure that includes attractive solutions for aging products in place. This could include attractive grab bars that can double as towel racks, attractive folding toilet support arms, wheelchair compatible bathroom sinks, anti-scald valves, wheelchair accessible showers, attractive fold-down shower seats, walk-in tubs, attractive lever handles (easy for arthritis sufferers) for faucets, and so on.
Part of any retirement home brochure should include how older people want to stay in their homes longer, how simple changes like those shown in the brochure can be implemented over time to extend the lifespan of people in their homes. them, and how that is an economically smart decision given the cost of assisted living facilities.

5. Green choices
Some consumers are extremely aware of their impact on the environment. There are a lot of things plumbers can do to reduce a home's environmental impact. Present them in a brochure on Green Choices.
Include water purification to reduce bottled water use (and improve its taste), rainwater capture and irrigation systems, tankless water heaters, dual toilets high efficiency flushing, leak alert sensors, etc. in your green choices brochure. The idea is to make it relatively painless for consumers to reduce their environmental impact.
6. Everything about drains
If you also offer drain cleaning and trenchless sewer repair services, it is a good idea to create a brochure to explain how the different drain cleaning options work, including jet, camera services, etc.
For more plumbing business ideas, downloadable plumbing business models, and buying group savings, join the service roundtable for $ 50 per month with no long-term contract. Learn more at www.ServiceRoundtable.com or call 877 / 262-3341.