Achievements of Guernsey construction industry apprentices celebrated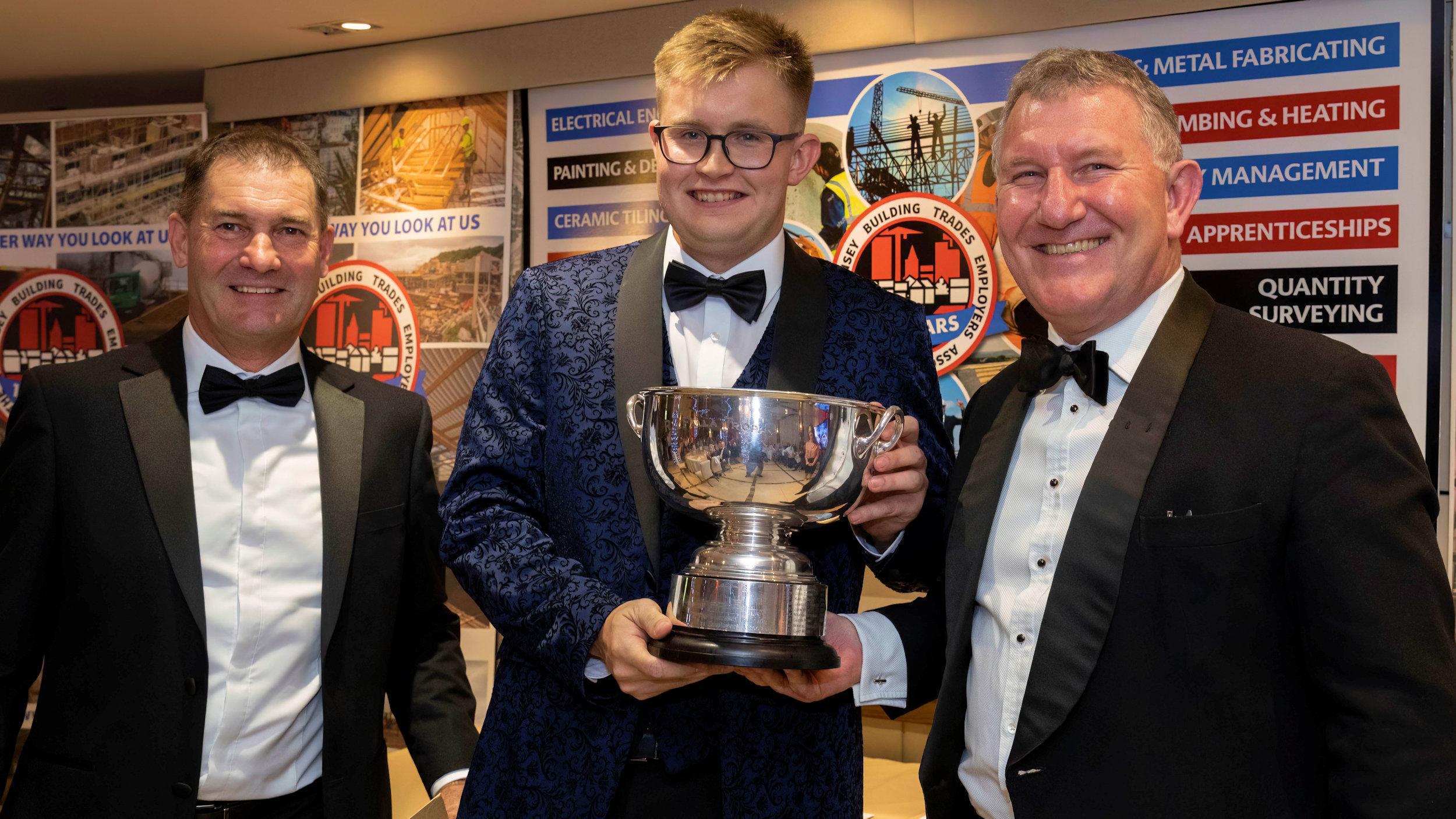 The Guernsey Building Trades Employers Association (GBTEA) hosted their annual Gala Dinner and Recognition Awards on Friday 14th October 2022 at the Farmhouse Hotel.
The event celebrated the achievements of apprentices undertaking training programs in the construction industry and awards were presented by His Excellency the Lieutenant Governor, Lieutenant General Richard Cripwell CB, CBE, who was l special guest at the event with Mrs. Cripwell.
Tutors at the Guernsey Institute (TGI), College of Further Education, have nominated one student from each of the eight construction industry apprenticeship programs as the category winner. GBTEA representatives then interviewed the eight nominees to select the overall winner.
The 2022 award winners were:
Craig Cox in Carpentry & Joinery, Apprenticeship training with Wings Ltd, Award sponsored by: CA Duquemin Ltd
Sam Mahy for electrical installations, apprenticeship training with Island Electrics Ltd, award sponsored by Amalgamated Facilities Management Ltd
adam quinn for Plumbing & Heating, Apprenticeship training with Priaulx West Ltd, Award sponsored by: Domestic Heating Services Ltd
Olivier Brehaut for 'Ronez young Achiever' in Stone Masonry Skills, Apprenticeship training with Stonework's Ltd, Award sponsored by: Ronez Ltd
Juris Drlings for Trowel Trades, Apprenticeship training with Jon Matthews, Prize sponsored by Hillstone Guernsey Ltd
Billy Prince for painting and decorating, apprenticeship training with Ounsworth Décor Ltd, award sponsored by P3 Facades & Interiors
Liam Torode for Island Operative 'Pathway 1', Apprenticeship Training with Geomarine Ltd, Award sponsored by Geomarine Ltd
Daniel Naftel for Welding & Fabrication, Apprenticeship training with Hamon Fabrications Ltd, Prize sponsored by Channel Welders Ltd
Each nominee received an engraved tankard, certificate of achievement and a £150 voucher for RH Gaudion & Son Ltd – donated by the respective award sponsor.
The overall winner and new holder of the RG Falla Rose Bowl has been named Adam Quinn. Adam also received a check for £300 presented by RG Falla Ltd director Sarah-Jayne Brewin.
Chris Torode, Director of Apprenticeships for the Guernsey Institute, College of Further Education, said: "We were delighted to see the achievements of apprentices recognized and celebrated at the event. Our construction industry apprenticeships continue to be a popular choice for young people looking to enter the workforce while studying for a formal qualification. This year, we have 125 newly registered apprentices, 44% of whom work in the construction sector. We continue to work closely with employers to review and adapt the apprenticeship program to reflect developments in the industry and are grateful to GBTEA for their continued support and for hosting another great evening.
Kevin Le Tissier, Vice President of GBTEA added: "The evening gave us the opportunity to recognize and celebrate the achievements of Guernsey's best construction trades apprentices. The apprenticeship program is key to providing the future talent the industry will need and many alumni who have won these awards in the past have gone on to run their own businesses. Congratulations to everyone who won an award – a reflection of their hard work and dedication.
---
Main photo shows (L to R): Kevin Le Tissier – Vice President GBTEA, Adam Quinn – Bowl Winner RG Falla Rose, His Excellency, The Lieutenant Governor, Lieutenant General Richard Cripwell CB, CBE.