Community mourns loss of grocery store in Williamsville | New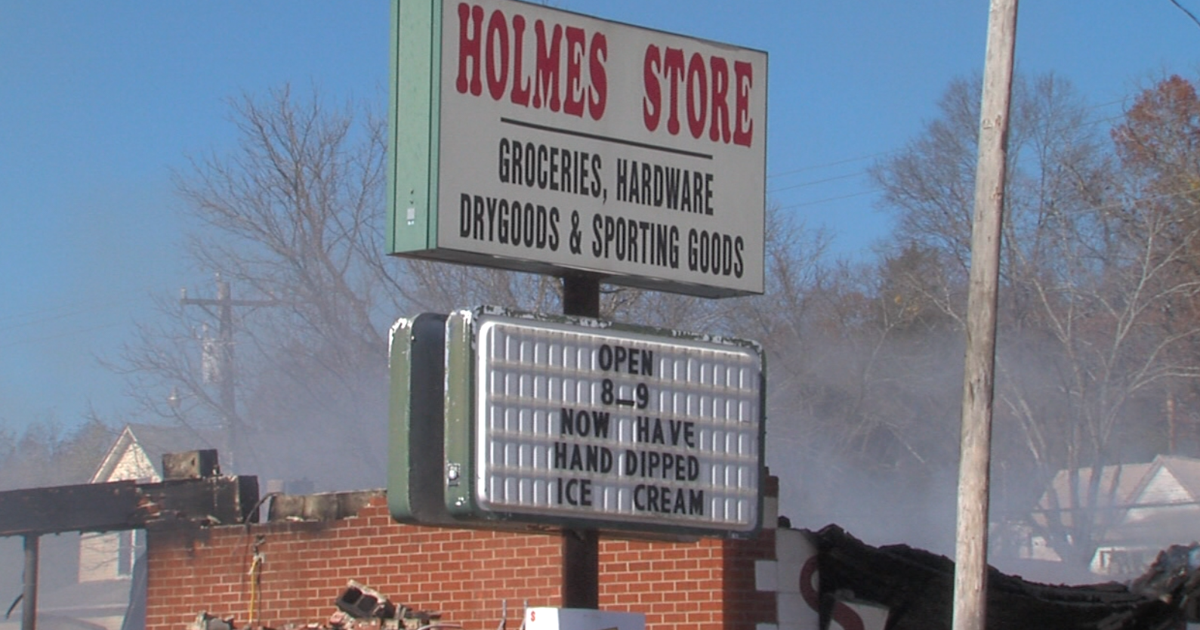 WILLIAMSVILLE, Mo. — A fire late Monday night destroyed an entire block of buildings, taking out a historic building and the small town's only grocery store in the process.
Holmes Store burned down and nine agencies responded to the fire call around 9pm on Monday evening. These teams worked for almost 13 hours before leaving the premises and leaving the store in total loss.
"When we arrived the fire was in such an advanced state that we knew there was no way to save the store," Williamsville Volunteer Fire Department Chief Bruce Street said. "It was a shock, to see the store go up in smoke and to know what a blow it is in this community.
Street, who retired from full-time work, actually worked at Holmes Store. He closed the store Monday night.
"I didn't see any smoke," Street said. "I saw no indication of a fire or anything out of the ordinary, and around 9.10 a.m. my fire phone at my house started ringing, and it said the old post office was in fire."
The building next to Holmes was almost 140 years old. It had been a bank and post office and various other things throughout its history. It was currently an apartment complex.
"It was our town," Williamsville Mayor Sandy Joy said. Seeing this devastation is very difficult for us.
The city will now have to travel almost 20 miles to get to the nearest grocery stores. These are in towns like Poplar Bluff, Greenville and Piedmont.
The oldest part of the Holmes store was built in 1893. In the early 1900s, Bob Riddle's grandmother purchased the store from the Wards and officially named it the Holmes Store.
Since then it remained with the Holmes family in one way or another until last March when it changed hands.
"For me, it was my family life," Riddle said. "Our family life has revolved around this town all my life."
First his grandmother, then his aunt and uncle ran the store for 25 years. That aunt is Joann Hicks, who was devastated to see so much of her life and her community in ruins on Tuesday morning.
She raised her family there and even passed it on to her family when she was done.
"It was wonderful," Hicks said. "People came every morning to talk, to have coffee, to spend time sitting there sightseeing. It was a place to visit."
The store has been called "the original Wal-Mart" by many of its customers. It had everything the small Missouri town could need, including horse food, fishing lures, plumbing and electrical supplies, paint, and of course groceries.
"Our biggest concern is how this is going to affect the city of Williamsville and the people of Williamsville," Riddle said. "We talked about the possibility of this happening, but we knew how much the people of this area depended so much on us."
And the store still let its customers charge the store, taking care of everyone who came in.
"We were giving them everything they needed until the end of the month, and then they could pay for it, or pay for it, or whatever they could afford to do," Hicks said.
Now the city is trying to figure out where to go from here.
"It's like a death, and we're all grieving," Mayor Sandy Joy said.