How redesigning industry-recognized credentials can help boost student success – The 74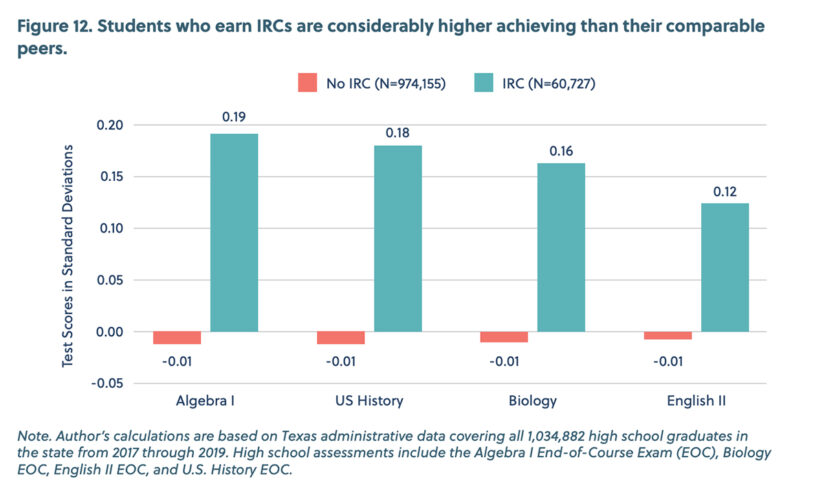 Support The 74's end of year campaign. Each donation will be matched dollar for dollar.
Early in my career, I taught high school in North Carolina. One of the coolest things we've done has been partnering up every year with the habitat for humanity crew. Every year, students in the construction trades classes at my school built a modular home from scratch, doing masonry, carpentry, electrical work, plumbing – all of it. Autumn found them hard at work on foundations and framing, struggling to secure the roof before winter.
At the time, students did not have the opportunity to earn an industry-recognized degree in construction or any other field. Today, these certifications, conferred by companies, industry groups or states, attest to a student's knowledge and skills in a particular field. High school students most often earn diplomas through vocational and technical training.
Although it is encouraging more than half of states now include earning these certifications in their school accountability systems, they could do more to help these programs realize their potential. A recently commissioned study written by Matt Giani of the University of Texas and commissioned by the Thomas B. Fordham Institute highlights some areas for improvement.
One of the main issues identified by the study is that many students who earn industry-recognized credentials do not end up employed in the industry closest to them (if they enter the labor market). work) or in related fields (if attending university).
It's disheartening, and more than a little disconcerting. Why would students bother to get a degree from industry that they have no intention of using, at least not immediately?
Student focus groups provided surprising responses. It seems that high school students value vocational and technical education in a way that policy makers do not recognize. Some said they took CTE courses just to explore new interests, not necessarily to get a degree, but also because they found their other courses boring. This tracking to research which shows that high school students are bored out of their mind – but consider CTE courses more interesting than other courses. A Michigan A survey reports that students find CTE particularly appealing because they can "spend half the day away from high school." A popular analysis federal dataset reveals that taking CTE courses in science is linked to increased engagement in school, especially for low-income students.
On the other hand, some focus group members said taking CTE classes helped them decide what they weren't interested in – like the cosmetology student who enjoyed the collaborative nature of the program but discovered that she hated cutting her hair.
Still others entered credentialing programs with a practical interest in a field they already had an interest in, or wanted to learn unrelated work or general life skills. A student in the automotive technology program, for example, was considering becoming a veterinarian but, coming from a family of mechanics, didn't want to pay someone else to fix her car. Another, who was planning to go into real estate, thought enrolling in a building program might help him tip houses to the side. A third, enrolled in the culinary arts, simply wanted to learn how to cook.
Given this variety of motivations, schools could use a more flexible system that recognizes student intent. A sensible solution is to offer exploratory courses, followed by a hierarchy credentials that differentiates between type and purpose of each.
Exploratory courses would not count towards a degree, but simply give curious students a taste of what a field is all about and a chance to roll up their sleeves. Start these courses in middle school would allow older students to maximize their years of high school.
Level 1 of the hierarchy would welcome students who have a practical interest in earning an entry-level degree but are not necessarily looking to take advantage of it. This category would include job security and general job readiness, including basic first aid, word processing, and financial literacy, and could encompass certifications from the Occupational Safety and Health AdministrationMicrosoft and the American Red Cross.
Level 2 would appeal to students who have at least some interest in a specific area and may want to increase it. These certifications would be stackable, meaning initial skills in, for example, IT, healthcare, and manufacturing could be extended through later certifications. For example, relevant certifications in manufacturing technology might start with electrical maintenance, then progress to industrial electronics, then mechatronics. Similarly, manufacturing could start with certification in basic welding, then welding fabrication, then metal fabrication.
Level 3 would meet the needs of students who have chosen a profession. It would include basic credentials that demonstrate mastery and truly advance careers. In radiology, for example, that would mean a bachelor's degree in radiological science management, potentially obtained after earning a limited medical radiology technologist certificate and an associate's degree in radiological technology. This kind of hierarchy would better reflect how students think about and approach CTE courses and degrees. It would also help point the way forward. highly skilled, well paid and in demand professions, which often sound good in theory but lack pathways to take students there.
Get stories like these delivered straight to your inbox. Subscribe to the 74 newsletter